A Christmas gift from a trillionaire would probably be nice. It might cost more than you or I will make in a lifetime. But it could not be any nicer than the gift my father recently received from two young friends.
When my mother passed away three years ago, Dad lost his chief source of beauty and charm. He had known Billie Jean McKenzie (Mom's maiden name) since they were in the same Junior High Spanish class. Billie Jean pointed at the young John Hepp and told a classmate, "I'm going to marry that boy!" And so she did. The daughter of a seamstress and a gardener, Billie Jean filled Dad's home with beautiful things that she grew or made with her own hands.
Since Mom's death, I have been impressed with the way God has comforted Dad, filling much of the void in his life with beautiful, charming friends. Two of those are Hannah (11) and her sister Gracie (8). Recently, their mother told Dad that they were learning how to sew. Dad gave them some boxes of cloth that Mom had collected. Surely these remnants would come in handy as the girls practiced stitching….
Back home, as Hannah and Gracie dug through the various samples of cloth, they made a discovery. Some of the samples had already been stitched together as squares for a quilt. Recognizing what they had, the two girls, their Mom, and their sewing instructor worked hard to finish what Billie Jean had begun. When it was finally ready, the young friends invited Dad over to their house for hot chocolate … and to present him with a cozy Christmas quilt.
How many trillionaires–or even millionaires–do you know who could have come up with such a wonderful Christmas gift? I only know of One.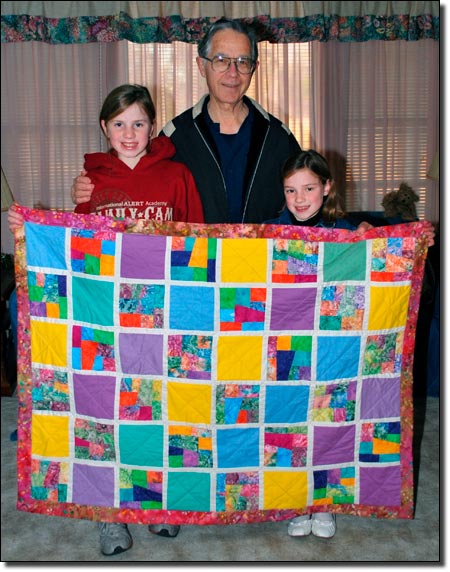 Hannah (left), John Hepp, Gracie (right)