Email Setup For Clients Hosting With JBH Communications
(see also: Website Planning | Rates and Services| Payment Methods )
My website hosting clients use a variety of solutions for their email. Here are some notes concerning the two most common solutions.
1. G Suite (formerly known as Google Apps for Your Domain)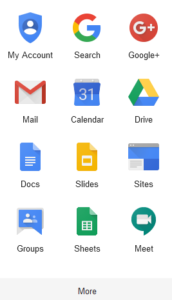 In the early years of website hosting, Google Apps for Your Domain was my default solution for clients. At that time, this service was free, just like any @gmail.com email address. With Google Apps for Your Domain, I could create many free email addresses for each client, and the addresses would be based on their domain name. In other words, if their website was www.mycompany.com, I could create email addresses for [email protected], [email protected], [email protected], etc. This worked exceptionally well. It is what I use for my own email, and it remains free since I am grandfathered in, as are many of my long-time clients.
A few years back, Google began charging for this service, with most users opting for $5/month or $50/year accounts PER USER. That is still a good value for clients who don't need a bunch of e-mail addresses.
G Suite accounts get not only the very reliable email service, with excellent spam filtering, but the whole "SUITE" of online tools that work seamlessly from computer, phone or tablet: a Calendar, Docs (like Microsoft Word), Slides (like PowerPoint), Sheets (spreadsheets). These tools can be shared with a team or publicly. Uses include collaborative document editing, shared calendar (sometimes embedded on websites). One of my clients uses the online spreadsheet to keep track of supplies she needs to purchase when she is at her own clients' locations.
2. Dreamhost Webmail, Usually Accessed With Desktop or Smartphone Email Clients
This is a popular free solution (i.e., free other than the small amount of setup time). My hosting clients can have as many email addresses as they like, based on their domain name: [email protected], [email protected], [email protected], etc. These addresses have a dedicated webmail mailbox that they can log into through a web browser, sync with on their smartphone or desktop email application, or just use as a relay (email going to that address automatically forwards to some other email address).
Webmail
The client logs into his/her mailbox by going either directly to webmail.theirdomain.com or indirectly through http://atmail.dreamhost.com The USER NAME is their entire email address. I send them the password when I set up the account, or can reset it if they forget it.
Sync with Smartphone or Desktop Email Client
Since this is done locally, I cannot offer extensive help. But Dreamhost does provide the following setup guides: