Newsletters (see also: Websites | Photography)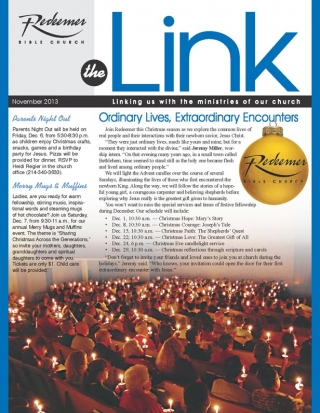 Click image for a full-size PDF.
The Redeemer Bible Church Link monthly newsletter was a pro-bono service of JBH Communications from 2000 through 2013.
JBH Communications' duties in producing this newsletter included photography, layout, typesetting, and occasional writing. We also prepared it for offset printing. Great care was taken to insure that it was completely ready for printing when it reached the print shop so that there were never any additional expenses or delays at that end of production.
PDF archives of this newsletter can be found here.
As Communications Director at Redeemer Bible Church almost from the church's inception to the present, Brad Hepp has kept our growing church family connected and well informed in a variety of creative and interesting ways – designing and regularly updating our website, photographing special events, designing numerous flyers, posters, etc., and in laying out and supervising the printing of the LINK, our monthly news letter. In the production of the LINK, Brad successfully coordinates and balances the input of the pastors and other writers, giving the church a comprehensive and interesting update.

Brad's work is meticulous, creative, interesting, informative, and on target. Excellence is his standard, and he consistently meets that standard. The pastoral staff and I have always found Brad to be an essential, supportive, and enjoyable colleague in ministry. — Don Geiger, Senior Pastor of Redeemer Bible Church (1999 – 2009)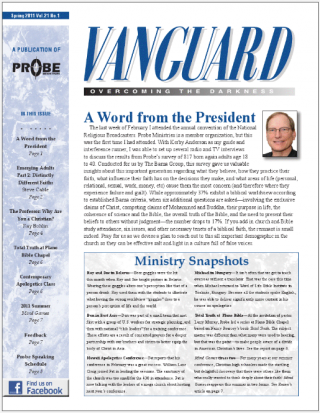 Click image for a full-size PDF.
Probe Ministries works internationally to provide life-long opportunities to integrate faith and learning through balanced, biblically based scholarship.
JBH Communications worked closely with Probe editor Rick Wade (as well as other Probe editors before him) to produce Probe's quarterly 8-page publication, Vanguard.
Brad Hepp has been assisting Probe Ministries since 1997 with the production of our Vanguard quarterly newsletter. As a novice editor, I needed someone with his patience and knowledge. Because of his long association with Probe, Brad knows what we're looking for. He takes the ideas I give him and makes them look right. Often I'll give him a few options and ask for his opinion because I don't know what is best. The larger percentage of the time, what he delivers is just right. If the result isn't just what I have in mind, Brad doesn't bristle, but goes back to the drawing board. I have been very grateful for his experience and attitude and the quickness with which he gets the work done. Speaking for the staff at Probe, I heartily endorse Brad Hepp and his skills in desktop publishing. — Rick Wade, Publications Manager, Probe Ministries (Rick continues his work as an editor at Wade Editing Services)